By Anne Helen Petersen (BuzzFeed Senior Culture Writer) Ken Bensinger (BuzzFeed News Reporter) Salvador Hernandez (BuzzFeed News Reporter)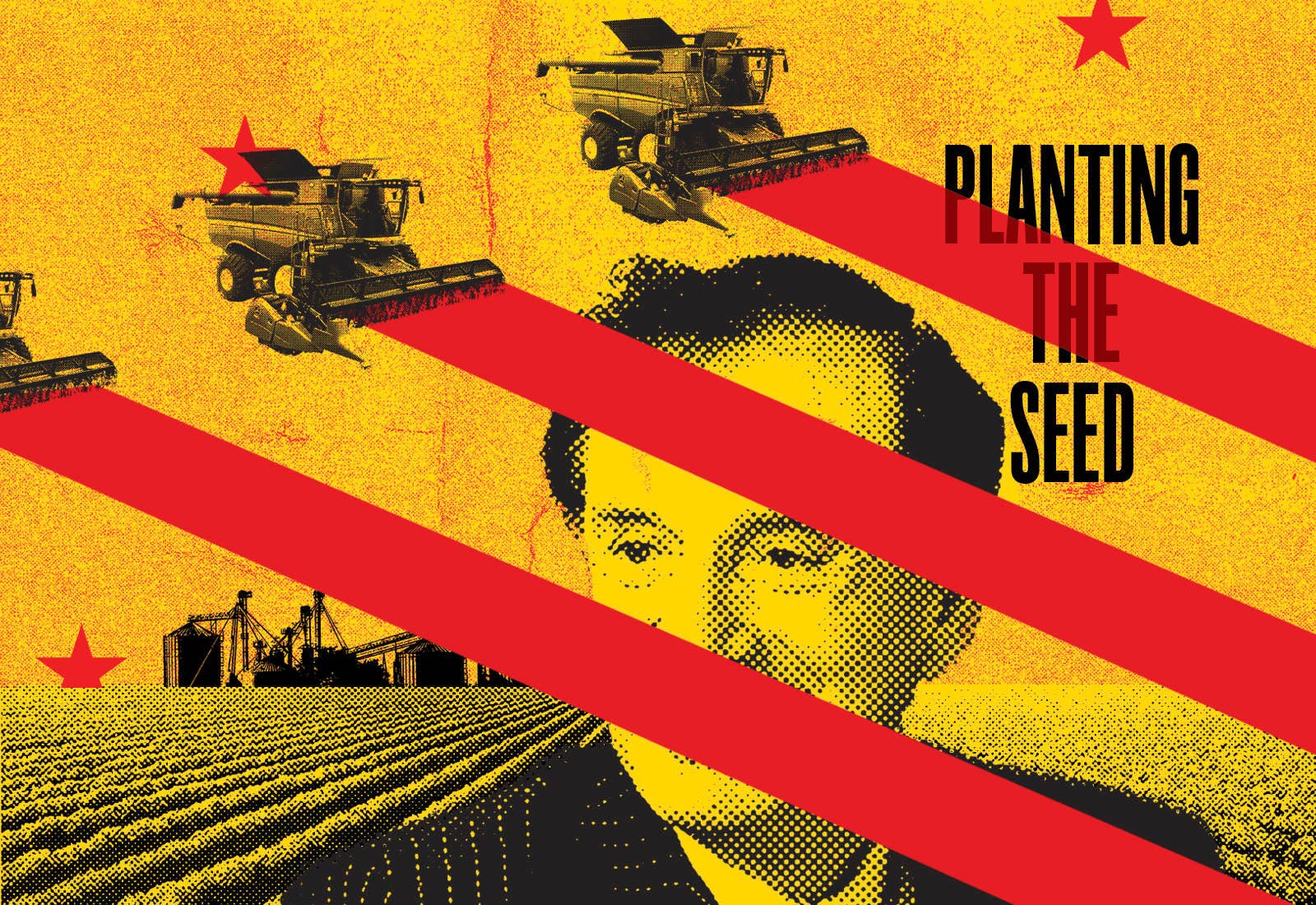 How Forrest Lucas — the little-known millionaire whose company name is plastered on the home stadium of the Indianapolis Colts — wields power, propaganda, and even Sharon Stone to protect Big Agriculture. 
The last call Oregon rancher Dwight Hammond Jr. made before heading to federal prison on two counts of arson in 2016 was to a man he hardly knew. Forrest Lucas, who made his fortune on oil engine additives, promised Hammond that he would do whatever he could to get him and his son, Steven, out of prison.
Early Tuesday morning aboard Air Force One, en route to the NATO summit, President Donald Trump signed an official clemency order pardoning the two men. Lucas — a 76-year-old Indiana self-made millionaire with tight ties to the Trump administration — had fulfilled his pledge.
For nearly two decades, the Hammonds had been engaged in skirmishes with the Bureau of Land Management, an agency that functions as a go-between for ranchers and the federal land they lease for grazing. They pushed back, often threateningly, on regulations regarding the Malheur Wildlife Refuge, which bordered the Hammonds' grazing allotment, and they set unpermitted fires on BLM land. After a second fire in 2006, the pair were charged with 19 different crimes, but eventually arranged a plea deal for just two charges of arson on federal land, which carried a minimum of a five-year sentence. The judge declared that such lengthy jail time qualified as cruel and unusual punishment, instead sentencing Dwight to three months and Steven to one year and one day. The pair served their time and returned home. But the federal government successfully appealed the sentence, and on Jan. 4, 2016, the Hammonds were ordered to return to prison.
The verdict brought Ammon and Ryan Bundy — who, along with their father, Cliven, had been involved in an armed confrontation with BLM officials over the management of their grazing allotment in Nevada — to Eastern Oregon. On Jan. 2, Ammon led several hundred people on a peaceful march through Burns, Oregon, in support of the Hammonds. At the end of the march, he made a declaration: Whoever wanted to take a "hard stand" against the government should follow him — thus launching what would become the 41-day armed standoff at the Malheur Wildlife Refuge.
The Hammonds, however, weren't there. Nor did they condone what the Bundys and others had done in their name. When the occupation began, they were back on their ranch with Dave Duquette, Lucas's close associate. When the Hammonds flew back to a hero's welcome in Burns, Oregon, it was aboard Lucas's private jet. Lucas, whose company, Lucas Oil, currently holds naming rights for the Indianapolis Colts' stadium, has made a pro-agriculture, anti-regulation agenda his mission over the past eight years — and had decided that the Hammonds fit into his larger master plan.
To achieve his goals, Lucas has used a nonprofit he founded, Protect the Harvest — devoted to "working to protect your right to hunt, fish, farm, eat meat, and own pets" — as well as his close ties to Vice President Mike Pence, Interior Secretary Ryan Zinke, and Agriculture Secretary Sonny Perdue, whose top adviser is a former employee of Lucas's. As Duquette puts it, "the access is very good."
"Most people wouldn't get involved," Duquette told BuzzFeed News in early June. "But thank god for Forrest Lucas, because he's been willing to take on the hard issues." Among those hard issues: fighting environmental activists, pushing back against regulation, and protecting farmers and ranchers from what they see as federal overreach. That's why Lucas grew interested in the Hammonds in the first place. "We're all about affordable food and land use and personal rights," Duquette explained. The Hammond case "intersects perfectly with the Protect the Harvest mission."
Protect the Harvest has built a positive rapport with the ag community by sponsoring scholarships and racetracks and film festivals. But the nonprofit has also benefited by inflaming the community's anxieties that a time-honored way of life is coming to an end — while eliding the fact that its own lobbying on behalf of corporations and against regulations has hastened the destruction of that lifestyle.
For those active in the agricultural world, Lucas has primarily been known for his strong stance on animal regulation, actively opposing attempts to limit or monitor mistreatment of pets and livestock with laws that would, for example, establish minimum spacing for hen cages or veal calf pens, crack down on puppy mills, or prevent intentional mutilation of Tennessee walking horses. A particular target of his efforts has been the Humane Society of the United States — the national organization that has spearheaded the vast majority of initiatives related to animal regulation, and which Lucas has referred to as "terrorists."
But Lucas's agenda is hardly limited to cage sizes and puppy mills, as reflected by his support of the Hammonds and, by extension, the Bundys and others opposed to federal control of public lands. And to get what he wants, Lucas has employed a highly sophisticated lobbying and messaging machine, which does everything from funding opposition to municipal spaying and neutering ordinances to orchestrating "range rights" conferences, streamed live on Facebook to an audience of thousands.
Protect the Harvest has spent millions producing web videos and memes that spread across the dozens of Bundy-adjacent Facebook pages that have popped up in the last decade. It also focuses on messaging to children: There are anti-regulatory Protect the Harvest coloring activity sheets, and a pro-ag Protect the Harvest–branded teaching curriculum available for download on their website. In 2015, Lucas began producing feature-length films — starring Hollywood actors like Sharon Stone, Jon Voight, and Jane Seymour — to promote his strongly anti-regulation agenda.
Lucas's film and television production studio, the Corona, California–based ESX Entertainment, currently has five films in production — including Stand at Paxton County described as the story of a rancher and his daughter who "face off against state and local authorities who by questionable means relieve local ranchers of their livestock and way of life."
After Trump took office, Lucas made the short list of potential appointees for interior secretary. Although Montana Rep. Ryan Zinke ultimately got the job, he has provided an open door to both Lucas and Protect the Harvest. Meanwhile, Brian Klippenstein, who is still listed as PTH's executive director, now works as senior adviser to Perdue. Pence's vice presidency has been a boon for Lucas, who, according to a Protect the Harvest spokesperson, has been friends with Lucas since before he took the office of Indiana governor.
In addition to Lucas's own role as one of Trump's agricultural advisers, public records indicate that Lucas met with Zinke in April 2017 to discuss wild horses, grazing access issues, and national monument designations. In October, when Pence flew to attend an Indianapolis Colts game, abruptly leaving when players knelt during the national anthem, he first spent time posing for photos with Lucas and Duquette. Protect the Harvest also has ties to former EPA chief Scott Pruitt, who was a featured speaker at a Protect the Harvest event in Indianapolis on Jan. 26, 2016.
Lucas's investment in the Hammonds — and the Bundys, who've been invited to Protect the Harvest–sponsored forums — is a means to an end. They have become symbols of the way many rural Americans feel they've been wronged by federal overreach, and Lucas, much like Trump, leverages those feelings to build support for one of his overriding goals: wide-scale deregulation of big business.
This is the story of how Forrest Lucas became the behind-the-scenes architect of a multipronged political and propaganda machine — unknown to most Americans, yet with an outsize influence on the current administration and the way millions think of their rural way of life, the industries that shape it, and the government's role within it.
"This administration has been pretty good at asking for problems," Duquette explained. "And then addressing them." The Hammond pardon is the first such Protect the Harvest "problem" that's been directly addressed on the national stage. But with Lucas's direct access to multiple wings of the administration, it's unlikely to be the last…(CONTINUED)
https://www.buzzfeed.com/annehelenpetersen/forrest-lucas-hammond-pardon-bundy-trump-pence?utm_term=.vaJOKY5GgO#.jo2g0XkLjg