by Sarah Emerson as published on Motherboard
"Secretary Zinke was proud to accept an invitation by the US Park Police to stand shoulder to shoulder with their officers on his first day at Interior.."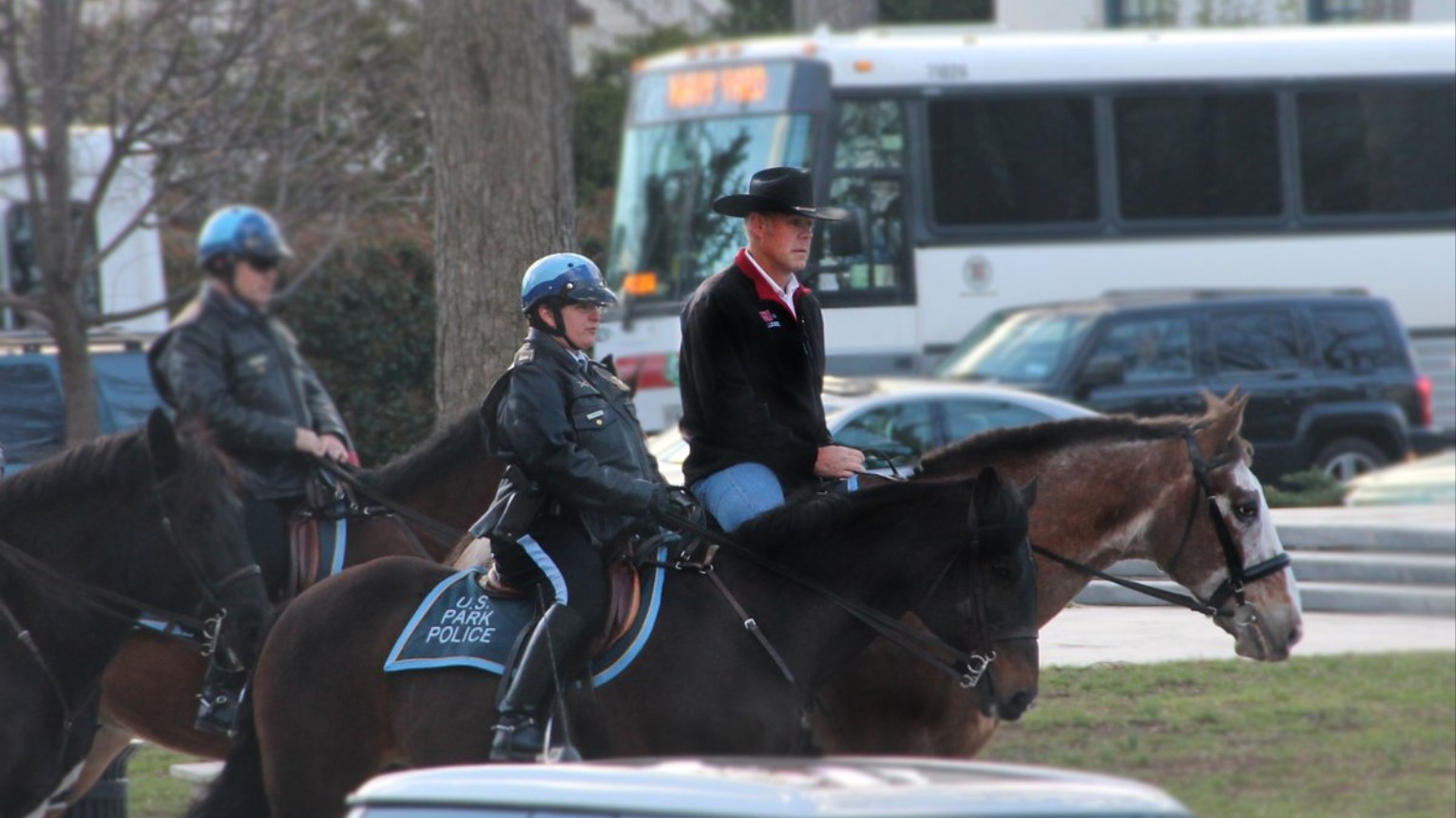 Hats off to Interior Secretary, Ryan Zinke, for making a dramatic entrance on his first day of work. The new agency head rode in on horseback—Stetson, jeans, boots, and all—from the National Mall to the Interior's headquarters, just east of the White House.
The secretary was escorted by nine officers from the the National Park Service's law enforcement arm.
All things considered, it could have been worse! (Looking at you, Betsy DeVos.) But that's not what we want to talk about today. While Zinke's ability to protect 500 million acres of American lands is still up for debate, one federal employee is already excelling at his job: his name is Tonto, and he's a horse.
That's according to Heather Swift, a spokesperson for the Department of the Interior, who revealed the identity of Zinke's handsome steed.
"Secretary Zinke was proud to accept an invitation by the US Park Police to stand shoulder to shoulder with their officers on his first day at Interior—the eve of the Department's anniversary," Swift told me.
After seeing photos of Tonto, I wanted to know everything about this enigmatic equine. How did he get this job? Where does he live? Is he worried that Zinke's dedication to public lands will be rendered useless by President Trump's desire to exploit them?
For starters, Tonto is a 17-year-old bay roan gelding. He stands nearly six feet tall, which is a pretty average height for an Irish sport horse. This breed is celebrated for its agility and speed, but is also known for having a good temperament; an important quality for a civil servant!
Sergeant Anna Rose of the United States Park Police (USPP) told me that Tonto was donated to the unit in 2014. He lives at their central stables on the National Mall, which according to the Trust for the National Mall, are in desperate need of an upgrade. I hope Tonto's living conditions are at least comfortable…(CONTINUED)
https://motherboard.vice.com/en_us/article/everything-we-know-about-the-horse-ryan-zinke-rode-to-work